Stoves

ST RICH 600 EI

Electric

Cooker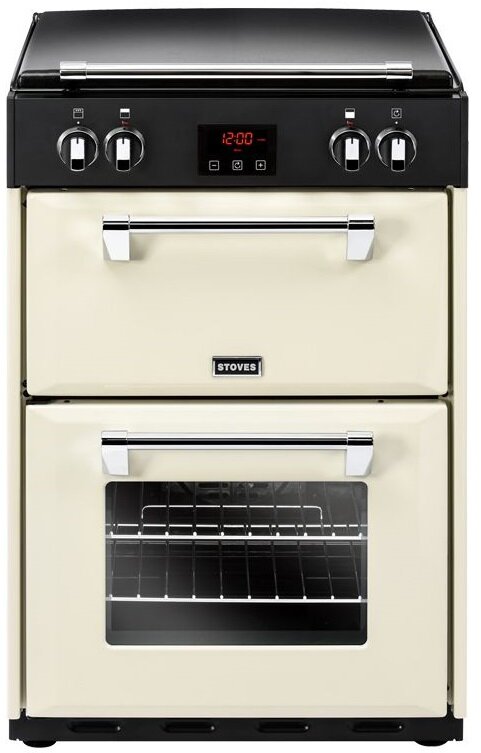 60 cm width

Energy rating A

Cream

4 Zone ceramic induction hob

2 Electric ovens (main oven fan assisted)


Zeus bluetooth connected timer

Slow closing cast aluminium lid

Adjustable Electric grill

Multi function oven

Manufacturers Warranty

Delivery available.

Installation available.

New (ex display)
ALWAYS CALL TO CHECK AVAILABILITY AS STOCK CHANGES DAILY.

The
Stoves Richmond 600 EI
60cm electric double oven boasts induction technology on the hob, Zeus™ Bluetooth® connectivity in the timer controled via a downloadable app and with A/A energy rating you'll save money on energy bills too!
What is Induction Technology
It works by heating the pan rather than the hob, giving you a faster, safer and more energy efficient way to cook. When a pan is placed on an induction hob, it completes a magnetic circuit below the hob's surface, this creates energy within the pan's base, which in turn heats the pan. As the heat is only heating the pan and not the zoned area no energy is wasted. Induction gives you outstanding low-heat performance and increased control.
An induction hob can boil water a lot faster than a standard ceramic hob and it is twice as fast as a gas hob. It even has a handy heat indicator, illuminating each zone when they're still warm after use.
Zeus™ Bluetooth® Connected Timer
Adjust and control your cooking times from your lounge. Using Bluetooth® technology, the Zeus™ free downloadable app lets you use your smartphone or tablet to control the timer on your oven, save your favourites and automatically update your clock. With Zeus™ you can set the cooking duration and end time, keep an eye on your timer and adjust it without having to be in the kitchen.
Multifunction Oven
With the multifunction oven you can select from a number of different cooking functions, including Equiflow™ fan assist,
base heat,
top heat,
intensive bake,
defrost
and fanned grilling to give you more cooking options for your meals.
Cooking Modes
Defrost - The fan assists defrosting by circulating room temperature air around the food.

Fanned Oven - Distributes the heat evenly around the oven. Perfect for baking.

Conventional Oven - This function is ideal for traditional roasting.

Top Heat - Use the top oven element towards the end of the cooking, for delicate browning or keeping food warm

Base Heat - The base heat can be used to provide additional browning for foods. traditionally used towards the end of cooking.

Base Heat with Fan - The base element cooks the base of your open pies, while the fan allows the air to circulate around the filling.

Intensive Bake - Suitable for food with a high moisture content, such as bread and quiche.

Fanned Grilling - Circulates heat around the food, making it ideal for thinner foods perfect for your bacon and steaks.

Conventional Grilling - This function cooks food from the top and is ideal for a range of food and as its a full length grill you can cook large quantities of food with ease.
60cm Aeg induction cooker
£549.00
60cm Belling cooker
£269.00
60cm Hotpoint cooker
£349.00
60cm Kenwood cooker
£329.00